Louisiana kickers shine at national event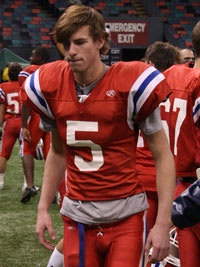 Three Louisiana specialists turned in outstanding performances recently at
Chris Sailer Kicking's National Spring Event
in Las Vegas. Rising seniors
Jonathan Ginsburgh
of Menard and
William Russ
of Evangel were joined by St. Louis'
Kris Albarado
, a rising junior, in being selected to the prestigious Event Elite.
The National Spring Event is an annual competition that features many of the top kicking, punting and long-snapping prospects in the country. Athletes chosen to the Event Elite qualify for the prestigious, invitation-only Top 12 Camp in Los Angeles in July.
Ginsburgh, who handles both kicking and punting at Menard, was selected for his punting prowess.
"Most schools are recruiting me primarily as a punter, which I feel is my strongest event," the 2008 Honorable Mention All-Stater said. Schools that have been in contact with the Eagle standout include Tulane, LSU, Arkansas, Mississippi State, Georgia Tech, Auburn and Northwestern.
While getting selected to the Event Elite is an honor, Ginsburgh has no intentions of resting on his laurels. "I'll be working a lot on my flexibility," he said. "I'll also be working on my technique, trying to learn more, so I can coach myself."
Former UCLA All-American Chris Sailer, who runs the camps that bear his name, has Ginsburgh ranked as the fourth-best high school punter in the Class of 2010. The vast majority of players ranked highly by Sailer end up signing Division I scholarships.
Russ also opened eyes as a punter in Las Vegas, after reaching the finals round as a kicker in a similar event in January. He hopes to continue playing both positions at the next level. "I want to try to do both," Russ said, while adding that he'd like to attend a school that would also allow him to play baseball.
Evangel head coach John Bachman knows he has something special in Russ. "He's probably the best athlete on our campus," Bachman said of Russ. "He's so gifted. He's 6'3" and can play any sport. He could probably pick up a golf club and shoot in the 70s. He's a great kid to have around the program. He does whatever he's asked to do."
Bachman said a Texas coach spent a lot of time watching Russ prior to Evangel's spring game. UL-Monroe, Tulane, Louisiana Tech and LSU are among the others who have been in contact with the 2008 Class 2A All-State punter, who Sailer ranks as the 15th-best punter and 22nd-best kicker in the Class of 2010.
Albarado is the only junior punter in the country to earn an invite to the Top 12 camp. Though he has started receiving correspondence from some schools, recruiting is still on the back burner, since he still has two years left in high school. That probably won't be for long, as Sailer ranks him 1st in the nation among 2011 punters.
Unlike Ginsburgh and Russ, Albarado only punts for St. Louis, but it's not because he can't kick. "We've got two really good kickers, so I can just concentrate on punting," Albarado said. In fact, Albarado was joined as a Class 3A Honorable Mention All-Stater by his teammate, kicker
James Bice
, who has twice earned that distinction.
"He's an extremely hard worker," Saints head coach Mike Johns said of Albarado. "He works hard in the weight room, and I know he spends a lot of time working on his punting. He's a good athlete."
In addition the the Top 12 camp in Los Angeles in July, all three players have busy summer schedules. Ginsburgh will be attending camps at Tulane, LSU, Arkansas, Georgia Tech and Auburn. Russ will show his skills at LSU, Louisiana Tech and Texas, among others. Albarado will attend camps at LSU and Texas A&M.