Under the Microscope: NOLA TE Tandem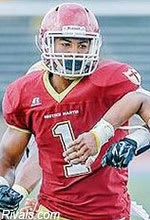 Set the edge of the offensive line
Dominant blocks at the point of attack, disengage and make another block on the second level of a defense.
Catch the ball away from their bodies
His basketball skills come to life on the football when a defender is draped over him, and he uses his body to box out defenders and make grabs in traffic. Smith is comfortable whether he's standing up in the slot, in-motion, or his hand in the ground next to a tackle. With his agility, don't be surprised to see him running fade routes in the red zone. He is definitely going to be an asset to the Aggies offense.
When he catches the ball it's usually when a defense becomes overly aggressive to their running game, leaving him wide open in the flat and in the middle of the field for pop passes. Texas is getting a hard-nosed player.
With another year to build on their highlight tapes and football résumés, expect recruiters to continue to try and sway them away from their commitments.